Engineering, Procurement and Construction Overview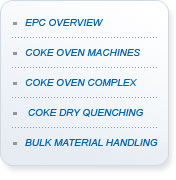 Technological Support
Bhilai Engineering Corporation Limited offers state of art technology in association with the global technologists in Steel, Mines, Railways & Power. Our partnerships is based on mutual trust & long term business opportunities & benefits.
Engineering
Our design & engineering offices at four locations in India offers complete engineering solutions for Structural, Mechanical, Electrical & Instrumentation including Civil & associated services. We have more than 60 qualified engineers to support our offerings.
Manufacturing
Our integrated manufacturing unit in the central part of India offers Foundry, Fabrication & Machining services for the Industry. We have total area of 250000 square meter & have Foundry & Fabrication capacity of 12000 TPA & 30000 TPA respectively. The shops have more than 100 CNC/NC machine tools.
Pre-Assembly
We have all associated facility to perform assembly at shops. We have handling facility up to 250 tons & our annual capacity is
30000 TPA. All mechanical & structural parts are assembled with drives & trial tests are performed to avoid complication at sites.
Electrical and Process Automation
In Electrical and Process Instrumentation / Automation, BEC provide the latest state of the art system. Intelligent Motor Control Centre and Microprocessor based release in Circuit Breakers have been introduced . High speed Bus based digital communications with the process controller PLC /DCS replaced the old maintenance prone huge arrays of hardwired connections.
In Coke Oven Projects, Intra - Oven Machines interlocking and Automatic Positioning have been achieved along with the Process optimization through Level II Automation in collaboration with SIEMENS VAI, FINLAND.
The vulnerable areas of the plant are protected by Computer monitored Fire Detection & Fire Protection system with latest Analogue addressable multisensors.
CCTV system covers the process monitoring and the plant operation. The entire Electrical System is made Energy Efficient through extensive use of Energy Efficient Motors, Transformers and lamps for Illumination.
Civil Engineering
The civil wing of BEC manned by experienced civil engineers shouldered the responsibility of execution of civil works and steel structures associated with the turnkey projects being handled at present. The total civil works worth 220 crores are presently executed by this wing quite successfully.
At present three sites are in operation with adequate nos of able site engineers. Difficult structures like 120 m tall chimney, 45 m high coal tower and intricate nozzle deck for 7 m high Battery have been successfully completed at IISCO Burnpur. BEC has already procured no of cranes and other construction equipments to support the construction activity.
BEC has established its capability in civil design & engineering by successfully designing all the RCC Structures and foundation by its in house experts for Coke Dry Cooling Plant of ISP, Burnpur
Erection
Team of highly qualified & experienced professionals offer services at sites for the installation of equipments. Own fleet of construction equipments helps in timely completion with full commitment for safety . Our list of satisfied customer & our ability to perform projects despite all odds is remarkable.
Commissioning
Our understanding for the project & with application of advanced software tools for the planning, scheduling & monitoring helps in successful implementation of concept to commissioning. Our track record of mobilising finance & managing operations with proper human resources makes us preferred supplier.
Operational Support
Our each implementation of project is treated as our own project. We ensure that all required training to the operational team is provided properly for smooth operation & achieving the targeted output for years together. We understand the importance of customer satisfaction & the need of repeat orders from them.