Bulk Material Handling
BHILAI ENGINEERING CORPORATION LIMITED IS A LEADING EPC COMPANY & TECHNOLIGICAL EQUIPMENT SUPPLIER SERVING CORE SECTORS FOR THE LAST 50 YEARS.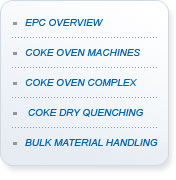 Our offerings include integrated technical services as Engineering, Procurements, Manufacturing, Pre Assemblies at shop; Erection & Commissioning at sites. We are the global leaders in offering Coke Oven Machines on turnkey basis. We have customer trust for the 140 machines globally. Our in-house capability for the Engineering & manufacturing with strong project management team are fully equipped in offering the latest solutions for the following specialized equipments & integrated projects:
Bulk Material Handling Equipments for the Yard & Port
Integrated Coal Handling Plants & Raw Material Handling Systems
Specialized surface mining equipments for the Lignite Mining
Balance of Plants for the Power Sector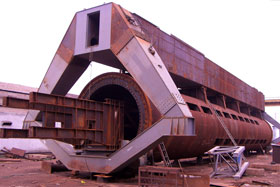 We are in the process of finalizing our partnership agreement for the above solution to offer complete handling solutions under one roof. Through our partnerships we will ensure solutions for the Mining, Conveying, Storing, Crushing, Loading, Unloading of materials for core sectors as Power, Steel, Mines etc. Our specialized team of qualified professional, our dedicated facilities for the Engineering & Manufacturing & range of advanced construction equipments with the application of latest software tools for project monitoring & scheduling will ensure our implementations successfully.
We have already partnered the leaders in the bulk material handling equipments & have their trust & confidence in the supplies of following equipments in India & across the globe:
Port & Yard equipment for bulk material handling
| | | | | | | |
| --- | --- | --- | --- | --- | --- | --- |
| Description | Quantity | Wt./Machine | Capacity | Unit | Status | End User |
| Wagon Trippler | 01 | 74 | 24 | Tips/Hour | Executed | Gangavaram Project, Visakhapatnam |
| Wagon Loader | 01 | 124 | 1500 | Tons/Hour | Executed | Gangavaram Project, Visakhapatnam |
| Barrel Reclaimer | 04 | 181 | 1200/1500 | Tons/Hour | Executed | SAIL, Rourkela Steel Plant |
| Rail Mounted Stacker | 03 | 165 | 4000 | Tons/Hour | Executed | Mormugao Port Trust, Goa |
| Ship Unloader | 02 | 850 | 1750 | Tons/Hour | Executed | Ennore Port , Chennai |
| Barge Unloader | 02 | 433 | 650 | Tons/Hour | Executed | Cirebon Electric Power Indonesia |
| Stacker Cum Reclaimer | 01 | 320 | 2000 | Tons/Hour Stacking | Under Execution | Paiton Energy, Indonesia |