Home
> Divisions > Foundry
Foundry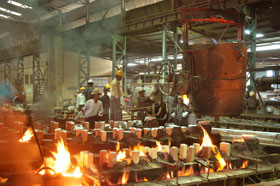 BEC Steel Foundry:

BEC Steel Foundry is one of the leading and modern Foundries established in the year 1970 situated in the central part of India at Bhilai (Chhattisgarh State) known as one of the renowned Steel Cities. BEC is duly accredited with ISO: 9001-2000 certification. The company was set up with an objective, of manufacturing high quality steel castings in fully machined condition to our valued customers using the latest State-of-art technology available in the country.
For past 40 years the Foundry is dedicated in the service of Railways, Mines, Palletizing Plants and other specialized Manganese Steel Castings.

The Company established itself as a premier supplier with Research Design Standardization Organization (RDSO) for manufacture of Locomotive Bogies and Cast Manganese Steel Crossings (CMS) for Indian Railways. BEC is one of the leading companies with modern equipments, for manufacture of railway equipment, Rolling stock castings following strict quality control measures to meet our customers' needs. The Foundry is managed by a team of technical professionals.