Home
> Divisions > Heavy Engineering
Heavy Engineering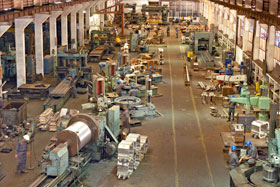 Heavy Engineering divison offers multidisciplinary equipments for Steel, Power, Mines, Cement & other core sectors. The installed foundry capacity of
12,000 TPA
integrated with
30,000 TPA
of Fabrication, assembly shops is supported with Machining Shops having installations of more than
100 CNC/NC/conventional
Machine tools.
The division can offer almost all equipments for the integrated Steel Plants with specialization in Rolling Mills, Casters, Blast Furnaces, Sinter Plants etc. It also offers critical equipments for the Power Plants, Cement , Mining, Space Recearch & Aluminium Industry. The design offices in three major cities in India supports the division in providing complete engineering solutions.
The divison operates from the three manufacturing units of combined area of
0.3 million sq.metre
. All critical assemblies are performed under covered bays & are also integrated with the mechanized grit & sandblasting booth with painting & metallizing shops for the high quality applications which can last for even 15 years & more.
The division supports the EPC buisness of the company thru offering world class quality equipments & machineries. The equipments supplied from the division are preassembled with drives, trial tested & match marks are provided for ease of erection at site.
Heavy mobile cranes upto 250 tons
capacity offer good handling & assembly facility for the shops.