Home
> Group Companies > VVEL
Vishva Vishal Engineering Ltd. (VVEL)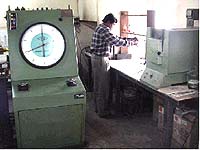 Vishva Vishal Engineering Limited
was established a decade ago beginning with Cast House Refractories. It grew rapidly by accepting the challenges of the new millennium and by adding various new products like Porous Plug, Impact Pad, Ramming & Gunning Masses, Castables & Various Shaped Products. Our
Excellence is reflected through its quality supplies to Blast Furnaces of Capacity Ranging from 175 Cu.Mtr to 3200 Cu.Mtr, having diverse operating parameters, in almost all the integrated Steel Plants, Mini Steel Plants and Pig Iron Melters. While VVEL is pushing ahead with latest scientific innovation, modern technology and upto date management techniques, it is also trying hard to remain sensitive to various aspects of customer's requirements. The aim of VVEL is:
"PURSUIT OF EXCELLENCE"
In all fields of its activities
Manufacturing Infrastructure
Research & Development
The Lab is equipped with all the testing facilities for refractory materials.
Cold Crushing Strength Machine
Muffle Furnace 1000° C
Cold M.O.R. Testing Machine
Carbon & Sulphur Analyser
Water Distillation Apparatus
Moisture Testing Analyser
Heat Furnaces & Other Lab Equipments
Oven 300°C
PCE Furnace
RUL Furnace
Hot MOR Furnaces
Hot Air Drier
Machine Tools – Mullers & Mixers
Mixer Machine 100 Kg. Cap.
Planetery Mixer - 1
Planetery Mixer - 2
Castable Mixer - 200 Kg.
Biconic Mixer - 400 & 1000 Kg.
Taphole Mass Mixers – 200 Kg.
Works & Office
4/5, Industrial Estate, Nandini Road
Bhilai - 490 026 (Chhattisgarh)

Phone: 0788 285101/02
Fax: 0788 285103 / 381141
Email: vvel@sancharnet.in
Regd. Office
31, Makers Chamber - III, 3rd Floor, Nariman Point,
Bombay - 420021 (Maharastra)

Phone: 022 22831724, 22844208, 22043647, 22871331
Fax: 022-22873611
Email: dhruv@bec-group.com